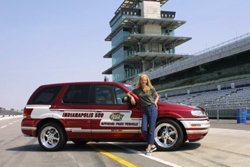 First woman, first SUV to pace Indy 500
INDIANAPOLIS, May 4, 2001 – Supermodel Elaine Irwin-Mellencamp will drive the Oldsmobile Bravada Pace Vehicle at the start of the 85th running of the Indianapolis 500 on May 27. Irwin-Mellencamp is the first woman to pace "The Greatest Spectacle in Racing," and Oldsmobile's all-new 2002 Bravada is the first SUV to pace the world's most famous auto race.
Irwin-Mellencamp excited about Indy 500
"I am absolutely thrilled," said Irwin-Mellencamp, wife of musician John Mellencamp. "I've watched the Indianapolis 500 on television for as long as I can remember. I hoped to have a good seat for this year's race, but I had no idea that I would be driving the pace vehicle!"
Irwin-Mellencamp was coached by two-time Indianapolis 500 winner Al Unser Jr. in a training session today at Indianapolis Motor Speedway. "It was a little intimidating when I first pulled out onto that huge track, but after one lap around I was having a great time," she said. "They had a hard time getting me off the track today."
Oldsmobile makes history again
"The entire Oldsmobile organization is delighted that Elaine Irwin-Mellencamp will drive the Bravada Pace Vehicle because she shares our enthusiasm for this year's event," said Jim Vurpillat, brand manager for Bravada. "Oldsmobile has made history at the Indianapolis 500 for more than 50 years. We look forward to continuing this tradition when Elaine leads the field to the green flag in the ground-breaking 2002 Bravada SUV."
Oldsmobile will pace the Indianapolis 500 for the 11th time since 1949. A total of 54 men have driven pace cars at the Indianapolis 500 since Indianapolis Motor Speedway founder Carl G. Fisher started the tradition in 1911. While three women – Janet Guthrie, Lyn St. James and Sarah Fisher – have competed in the Indianapolis 500 race, a woman has never before been named as the pace car driver.
"It's a great honor to be the first woman to pace the Indianapolis 500," said Irwin-Mellencamp. "Women like Sarah Fisher really know how to handle the pressure of driving at Indy. I intend to have a wonderful time and enjoy the experience."
About the Driver
Growing up in Gilbertsville, Penn., Elaine Irwin started her modeling career at age 16. She was discovered by a New York City agency and made her debut in Seventeen magazine. She has appeared on the covers of Cosmopolitan, Glamour, Self, and Elite magazines, and has been featured in advertisements for Calvin Klein, Ralph Lauren and Victoria's Secret. Irwin-Mellencamp resides in Bloomington, Ind., with her husband and two sons.
About the Pace Vehicle
The Bravada is the first Oldsmobile Indianapolis 500 Pace Vehicle powered by an inline six-cylinder engine – the new Vortec 4200. The 270-horsepower Vortec 4200 shares many sophisticated features with the Oldsmobile's IRL Aurora V8 racing engine that has won the Indianapolis 500 four straight years. Both engines utilize all-aluminum construction to reduce weight and four-valve cylinder heads with dual overhead camshafts to enhance performance. The Vortec 4200 is the exclusive powerplant of Oldsmobile's new midsize SUV.
The new Bravada's frame features full-length hydroformed side rails – a technology pioneered by GM in 1997 – that increase torsional rigidity. An electronically controlled air suspension system and rack-and-pinion steering produce a refined, responsive ride.
.